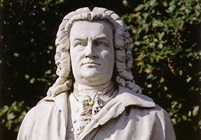 Johnny Reinhard's long awaited study

"Bach and Tuning"





Chapter 1: Johann Gottfried Walther
Walther was like a brother to J.S. Bach throughout his lifetime, an eyewitness to his cousin?s musical world, and author of the first lexicon of the German Baroque.

Chapter 2: Dieterich Buxtehude
Buxtehude was renowned for his organ improvisations, and had a profound influence on J.S. Bach. This chapter examines the primacy of virtuosic improvisation in necessitating a circle of keys.

Chapter 3: Andreas Werckmeister
Werckmeister was responsible for a revolution in tuning through his invented temperaments as alternatives to the limitations of meantone, and in spite of the obviousness of equal temperament.

Chapter 4: Tuning
The twelve major and minor keys are examined, key by key, in cents (1200 cents to the octave). Comparisons are made between quarter and sixth comma meantone, Werckmeister III, IV, V & VI tunings, Kirnberger I & II, Trost, and Neidhardt I, II & III tunings.


For Bach and Tuning sent electronically via email:

Make check or money order payable to
American Festival of Microtonal Music
for $20.00 and send to:

Johnny Reinhard/AFMM
318 East 70th St.
Apt. 5-FW
New York, NY 10021

For Printed and bound copy domestic US shipping included
Price: $57.00

For printed and bound outside of U.S. Price: $57.00 plus applicable shipping costs.

Chapter 5: Bach Cities
Bach worked prominently in Leipzig, Arnstadt, Mühlhausen, and Anhalt-Kothen. The organs in these cities were tuned prior to Bach?s employment and retained their tuning.

Chapter 6: Thuringian Aesthetic
The Bach family belonged to the Thuringian tribe in central Germany. Thuringians were notably fascinated with tuning keyboards that praised the irregularity? or unequalness? of the scale.

Chapter 7: Notation
Notation gives valuable clues for identifying a tuning system, while the compositional usage of the notes in indicative of aesthetic. Works examined include The Passion According to St. Matthew, 6 Brandenburg Concertos, A Musical Offering, and The Well-tempered Clavier.

Chapter 8: Johann Philipp Kirnberger
Kirnberger, a former private student of Bach?s in Leipzig, was a tuning pedagogue famed for the promotion of the Bach legacy. Kirnberger introduced his own innovations in tuning for the Classical era.

Chapter 9: Refreshed Perspectives
After arranging the prevailing possibilities for Bach?s tuning categorically, a multiple choice question is constructed that leaves only one answer, the direct result of eliminating all other possibilities.